Whitewater rafting
Roaring rapids. River views. Rusing waters. Days of adventure await. Carve through the mountains of Almost Heaven, West Virginia on a rafting excursion.
West Virginia is home to the highest density of whitewater runs in the country. From family fun to wild adventure, there is a river for you in Almost Heaven. Are you looking to meander through nature and catch the magnificent sights? Whether it's a half-day experience or an extended journey, there is a river waiting for you. Regardless of your experience, you can explore any of the many rapids from Class I to Class V.
Browse Trip Guides by Difficulty
Did you know that kids can raft for free on the New River?
As summer break approaches, you're likely searching for your family's next vacation destination. You're just in luck. Home to awe-inspiring beauty and an abundance of outdoor recreation, the New River Gorge National Park awaits you.
ACE Adventure Resort and Adventures on the Gorge will make your trip to West Virginia even more exciting with an unbeatable deal.
Every Sunday to Friday aside from holidays, children ages 6-11 can whitewater raft for FREE on the Upper New River Gorge.
Explore Iconic Rivers
New River Gorge National Park & Preserve
Get the chance to raft in America's newest National Park and Preserve. The New River Gorge is the most popular whitewater destination in West Virginia. To beat the summer heat and get your fair share of adrenaline, try a rafting trip on the Lower New River, or chill out on the Upper New with relaxing float trips through a meandering river. You don't have to be an expert to try this outdoor adventure, thanks to local outfitters.
Gauley River National Recreation Area
During the fall you will find no other rafting experience like the Gauley River. Travel down the narrow 25 miles of canyon line facing the 100 rapids featuring deep drops and huge waves. There is a good reason the Upper Gauley is called the Beast of the East. Travelers from around the world come here to experience the river between September and October. Find out for yourself by rafting down the famous big 5 rapids that claim the whitewater rating of Class V.
Cheat River
Located in the heart of Mountaineer Country and only an hour from Pittsburgh, the Cheat River is a popular whitewater rafting destination, particularly in the spring and summer months. The Cheat River has two distinct whitewater sections for all your paddling needs. Looking for something mild? Check out the Cheat Narrows. Something wild? Head over to the 13-mile section of the river called Cheat Canyon. The steep-walled canyon is a unique backdrop in the mountains of Appalachia. Since the Cheat is undammed and flows naturally, each day can provide a different experience.
Shenandoah Valley
The Potomac and Shenandoah Rivers converge to offer impressive rafting opportunities in the eastern panhandle of West Virginia. Here you'll find Class I-III rapids amid the rich history of Harpers Ferry National Historical Park. This area is great for beginner and intermediate paddlers, as well as those seeking a thrill and looking for some history to boot. Also, the Barnum Whitewater Area is a perfect place to get started. This area is great for beginner and intermediate paddlers, as well as those seeking a thrill.
---
Getting Started
Find one of the various whitewater outfitters in West Virginia that can provide the best experience for you. Regardless of your interests, there is an outfitter to fit your needs. The first step is choosing the Almost Heaven spot you want to visit. Then find an outfitter in the area. Each outfitter will be able to find the best trip for you.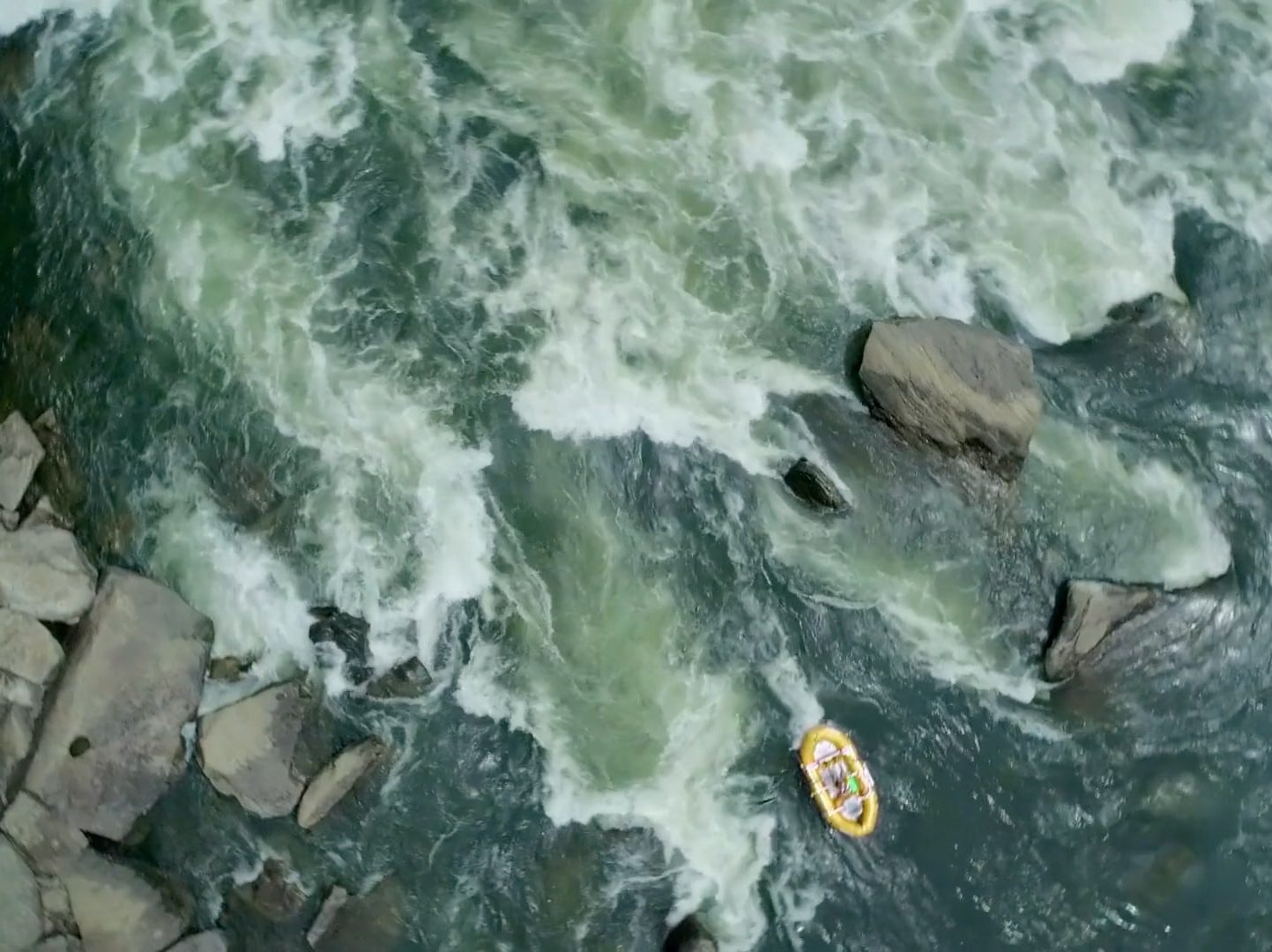 ---
Packing Essentials
Your gear list is always going to vary on the weather, time of year, and Almost Heaven destination. If you are traveling with friends or a local guide, it is always best to consult them on specific gear needs. However, if you're just looking for the basics, here's a helpful list that outlines gear almost every adventurer needs.
Swimsuit or clothes that can get wet
Sneakers or Sandals with a heel strap
Dry change of clothes
A water bottle with extra water
A rain jacket in case of rainy days
Sunscreen
Insect repellent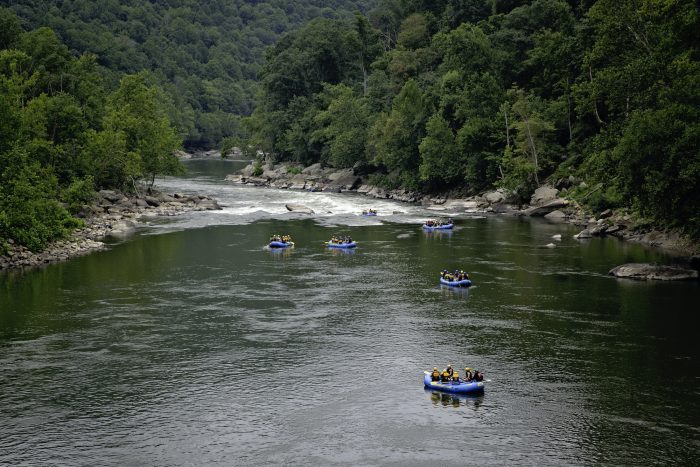 ---
Rafting Season
There is no clear best season for whitewater. The best time to go depends on the water levels. The most reliable season to go is in the spring (Mid-March through early June) when there is a lot of rainfall. That does not mean you cannot beat the heat during the summer. The New and Shenandoah can be great during the summer months. The Gauley River is best to run during the fall season. The Barnum Whitewater Area features whitewater releases beginning in April, with some artificial flow scheduled as into late as September. Remember to check the water levels before your trip.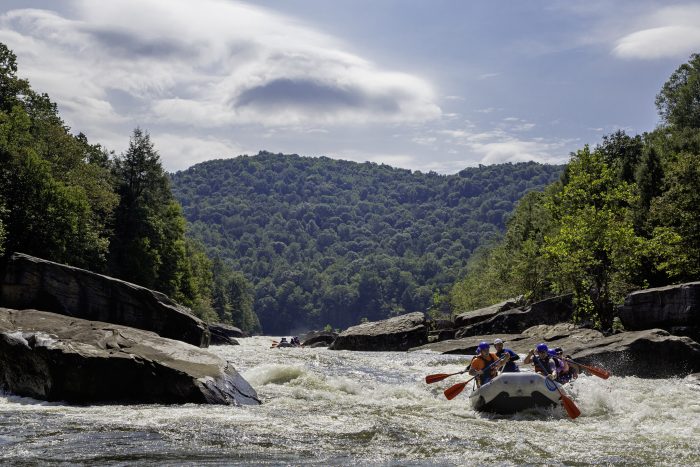 ---
Featured Outfitters by River
New and Gauley Rivers
ACE Adventure Resort is located on 1,500 wooded acres adjacent to the New River Gorge National Park and Preserve. While it offers incredible whitewater trips, ACE Adventure Resort also boasts zipline tours, rock climbing, mountain biking, lodging & camping, plus a waterpark.
Nearby Adventures on the Gorge combines industry expertise with a deep enthusiasm for adventure, making it a vacation you want to experience. Here, try horseback riding, kayaking, stand up paddleboarding, rock climbing, an adventure park, and of course, whitewater rafting.
River Expeditions, a family-owned and operated outfitter, has been guiding folks down the river since 1972. Take advantage of horseback riding, zipline tours, rock climbing, whitewater rafting, and paintball on site. Or book a scenic float trip along a mellow section of the New River with one of the plethora of boutique outfitters in the area.
Cheat River
Cheat River Outfitters has everything you need for your whitewater experience. Book a guided tour, complete with a riverside lunch, with your friends and family. Along with trips down the Cheat Canyon, they also offer tours of the Cheat Narrows, where you can expect clear water, giant boulders and beautiful scenery.
Shenandoah Valley
River Riders not only offers rafting trips, but tubing, ziplining and an aerial adventure park with nine aerial forest challenge trails all varying in difficulty. If you're up for an adventure, try whitewater kayaking, where you'll get even closer to rapids. At the end of the day, rest up in one of their rental homes or pitch a tent at a waterfront campground.
Potomac River
This section of the North Branch Potomac has continuous whitewater consisting of primarily open Class II-III rapids with waves and holes. The water is cold, however, because it is usually drawn from deep in the reservoir. Be prepared for 50-55 degree water anytime of the year. Although it may be a chilling trip down the river you will keep warm paddling against the pounding waves. Natural whitewater releases are scheduled in the Barnum Whitewater Area for April 9-10, 23-24, May 7-8, 21-22, with artificial flow whitewater dates of August 27-28, September 17-18.
FIND AN OUTFITTER
Ride the rapids in #AlmostHeaven