SUMMER FLAVORS
Summer in West Virginia is when flavors blossom everywhere you look. Ramps pop up on seasonal menus, West Virginia style hotdogs are found at cookouts and everyone waits for pawpaw to ripen. This summer try a new, almost heaven dish from a restaurant around the state.
The Flavors
Appalachian flair comes out in full force in the summer when flowers bloom and make way for seasonal fruits and veggies. Here's some of the flavors you can expect to find around the Mountain State:
Ramps are a bit of a delicacy in West Virginia. This green plant tastes like mix between onions and garlic. During the summertime you can find this unique vegetable on menus. Many ramp dinners are also held around the state where you can sample traditional ramp fare.
Nicknamed the West Virginia banana, the pawpaw is similar to that of a banana mixed with a mango and it's sweet like custard. Pawpaw has a short season and usually ripens between August and September. It may be hard to find in stores, so your best bet is at a farmer's market or local roadside stand. Ellen's Ice Cream, in Charleston, usually serves up delicious pawpaw flavored ice cream in late summer.
Strawberries aren't necessarily unique to West Virginia, but they sure are tasty. Each year in Buckhannon, there's a festival to celebrate the area's strawberry growers. Holl's Handcrafted Swiss Chocolates, in Vienna, offers delectable hand-dipped strawberries in the summer. You have to get your hands on some before they're gone!
As you probably know, summer and cookouts are pretty synonymous. You can't have a proper cookout without your staples – hotdogs, hamburgers, smore's, etc. West Virginia-style hotdogs come with all the fixings. The perfect West Virginia hotdog is topped with chili, coleslaw, mustard and onions.
Summer Sips
Nothing sounds better than laying riverside – or lake side – with a refreshing mixed drink as the sun sets in almost heaven. Add these West Virginia spirits to spice up your summer cocktail.
Hatfield & McCoy Moonshine – Handed down generation after generation for 150 years, Hatfield & McCoy Moonshine is the product of Devil Anse Hatfield of the legendary feud. Add a bit of their moonshine to warm up cool summer nights.
H&M Bee Sting
1 Tbs. honey
Juice of ½ lemon
1.5 oz. Hatfield & McCoy Moonshine
¼ oz. fresh-squeezed lime
½ cup iced tea (sweet or unsweet)
Lemon and fresh mint for garnish
Juice the lemon into the bottom of a glass and dissolve the honey into the glass before adding moonshine. Stir well. Fill glass with ice, top with iced tea, stir, and serve with a garnish of lemon and fresh mint.
Smooth Ambler Spirits – Located in Maxwelton, Smooth Ambler Spirits is known for their quality whiskey and bourbon. Using the finest local grain and hard-earned experience, every bottle of whiskey is made with true Appalachian flair.
Brown Derby
2 oz Old Scout American Whiskey
1 oz Fresh Grapefruit Juice
.5 oz Honey Syrup (1-part honey to 1-part water)
Combine all of the ingredients in an ice-filled shaker. Shake thoroughly, then double strain into a chilled cocktail glass. Garnish with a twist of grapefruit.
West Virginia Fruit and Berry – All-natural berries and fruits native to the Appalachian region make these wines so delightful. West Virginia Fruit and Berry products contain no corn syrup, additives, preservatives, artificial sweeteners or colors. Sweet and light, these wines make for the perfect additions to your favorite sangria recipe. Or you could try the Very Berry Wine Spritzer below:
Very Berry Wine Spritzer
Just pour your favorite WV Fruit and Berry wine into a wineglass filled with ice, top off with club soda and a dash of orange or lemon bitters. Garnish with an orange or lemon twist, kick back and relax.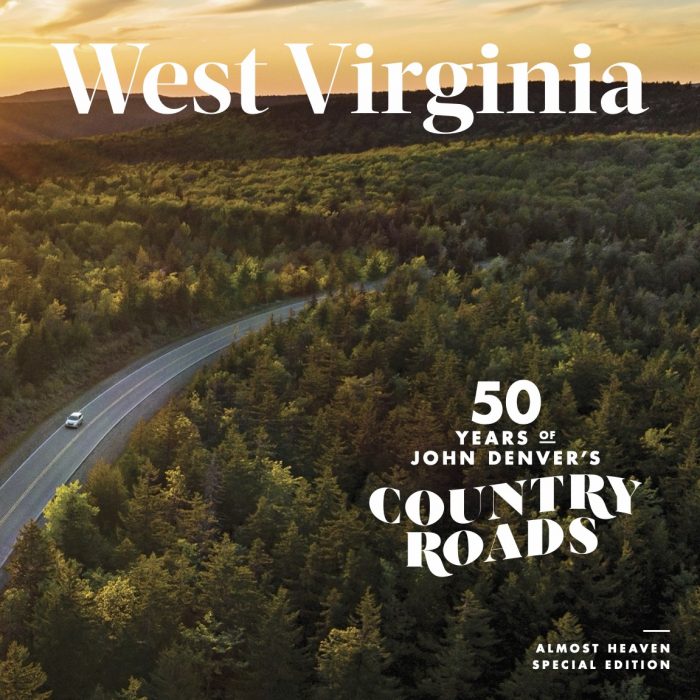 Order a special edition vacation guide today
Need even more inspiration? Ready to plan a trip? Order a FREE vacation guide to help lead the way on your Almost Heaven journey. This guide is packed with insider tips and commemorates the 50th anniversary of John Denver's Country Roads.