Travel Tools in West Virginia
Ready to escape the churn and burn of the daily routine and find your version of heaven? You've come to the right place. Just like any wanderer, it helps to know the lay of the land. Our travel tools are designed to help guide you through every step of your journey to West Virginia.
Your Country Road Trip Starts Here
From mountainous backcountry to history-packed byways, West Virginia has a road trip perfect for every preference.
West Virginia is centrally located between the Mid-Atlantic and Southeast, and within a day's drive of more than 75% of the U.S. population, so it's a great spot for a getaway or a meetup.
West Virginia has seven commercial airports with many offering direct flights to major regional hubs, daily which makes getting here easy.
And once you arrive, be sure to stop at our Welcome Centers on the way in for information about what to see and do.
---
Airports
Yeager Airport (CRW)
West Virginia International Yeager Airport (CRW) in Charleston offers nonstop flights to eight major airports including Charlotte, Washington D.C., Philadelphia, Chicago, Houston, Atlanta, Myrtle Beach and Fort Lauderdale through American Airlines, United, Delta and Spirit.
North Central West Virginia Airport (CKB)
The North Central West Virginia Airport (CKB) in Clarksburg currently offers service to Orlando/Sanford, FL and Myrtle Beach, SC through Allegiant. More recently, Allegiant has announced two new non-stop flights to Destin, Florida and Chicago, Illinois.
Greenbrier Valley Airport (LWB)
The Greenbrier Valley Airport (LWB) in Lewisburg offers non-stop service to Chicago O'Hare (ORD) and Washington Dulles (IAD) through United Express operated by Skywest Airlines.
Morgantown Municipal Airport (MGW)
Morgantown Municipal Airport (MGW) has daily flights to Baltimore-Washington International Airport (BWI) and Pittsburgh International Airport (PIT) operated by Southern Airways Express.
Mid-Ohio Valley Regional Airport (PKB)
The Mid-Ohio Valley Regional Airport (PKB) in Parkersburg currently services flights to Douglas International (CLT) Charlotte, NC and Tampa International Airport (TPA) Tampa, FL.
Huntington Tri-State Airport (HTS)
Huntington Tri-State Airport (HTS) provides non-stop service to Orlando (SFB), Tampa Bay/St. Petersburg (PIE), Fort Myers/Punta Gorda (PGD) and Myrtle Beach (MYR) through Allegiant. Nonstop flights to Douglas International Airport (CLT) Charlotte, NC are operated by American Airlines.
---
Amtrak Stations
There are 10 Amtrak stations in West Virginia and two routes that travel in the state: Capitol Limited and Cardinal. Both of these routes are long-distance, so rail service is limited.
Alderson, West Virginia
Alderson, WV, founded in 1777, is a beautiful little river town nestled in the hills of Appalachia.
Charleston, West Virginia
Sited on the south bank of the Kanawha River, opposite downtown, the neoclassical station was built for the Chesapeake & Ohio Railway in 1905. It houses commercial uses in addition to Amtrak. Parking is available in a variety of facilities, offering easy access to the station.
Harpers Ferry, West Virginia
The depot is part of the Harpers Ferry National Historic Park, which explores the rich history of this community located at the confluence of the Shenandoah and Potomac rivers.
The platform farthest from the station can be reached only by a passageway under the tracks, with stairs at both sides. There is no elevator and no dedicated track crossing. Passengers who cannot use the stairs should make reservations to/from Rockville, MD or Martinsburg, WV.
Hinton, West Virginia
Hinton, the remarkable Victorian-era railroad town is enveloped by the rolling hills of southern West Virginia.
Natural beauty abounds in this charming community, as it is the gateway to the New River Gorge National River, and in close proximity with both Bluestone State Park and Pipestem Resort State Park.
Huntington, West Virginia
At Huntington, the Chesapeake and Ohio Railway connected the Atlantic seaboard with the Ohio River Valley, turning the settlement into a bustling city and major railroad center.
Huntington sits along the Ohio River in Cabell County across from the state of Ohio. As home of Marshall University, this West Virginia city has a bustling dining and nightlife scene, but it's also a great place for families to visit and live.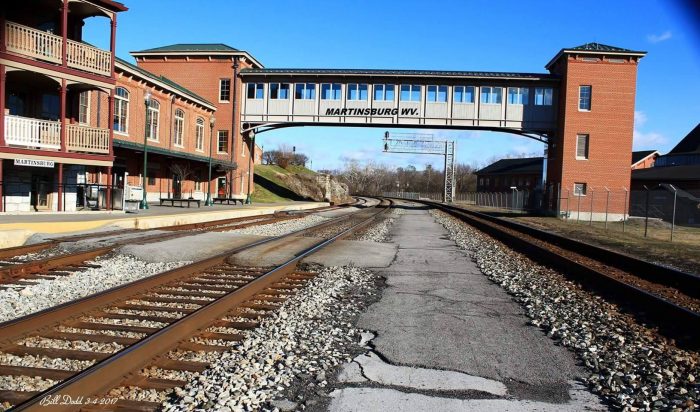 Martinsburg, West Virginia
The station, completed in 1997, adjoins an historic antebellum station/hotel that was once served by the Baltimore and Ohio Railroad. A scenic byway welcome center and a children's museum also occupy the complex.
Here you can shop in eclectic shops, stop by vibrant farmers markets, relax in an incredible salt cave, visit the galleries of amazing artists and try the delicious restaurants of the area.
Montgomery, West Virginia
The railroad runs through the center of this small community located on the Kanawha River. Platted in 1876, the town is home of the West Virginia University Institute of Technology.
Prince, West Virginia
Located along the shore of the New River, the Prince depot is an Art Moderne masterpiece built to signal a new era in passenger railroading.
Thurmond, West Virginia
Located in the scenic New River Gorge, Thurmond was long accessible primarily by rail. The C&O Railway built the wooded structure in 1904 to serve as a passenger depot and offices.
Special Programs & walking tours available. Exhibits include restored passenger depot, historic furnishings, exhibits of interaction between coal miners and railroad, abandoned buildings in Thurmond townsite.
White Sulpher Springs, West Virginia
Passengers use the platform adjacent to the historic Colonial Revival style depot, which now houses a shop. The nearby Greenbrier Resort and its predecessors have been popular retreats since the early 19th century.
Travel Resources
Your road trip starts here.
Get your free West Virginia Vacation Guide today.