Adventure by day, rest well at night: Hatfield-McCoy Trails Featured Lodging
Rushing adrenaline, exhilarating exploration and endless memories— all this and more await you on the Hatfield-McCoy Trails. This summer, venture into Almost Heaven's lush mountains and find the thrill of a lifetime. With over 1,000 miles of trails to explore, you'll likely be spending long days out and about. Thankfully, not only can you find adventure on the trails, but you can also find an abundance of nearby accommodations when the day is done.
Check out these cozy cabins, unbeatable B&B's or convenient campgrounds after an exhilarating day exploring these Almost Heaven mountain landscapes.
Cozy Cabins
After a fast-paced day, wind down and relax with loved ones at these cozy cabin retreats.
Buffalo Trail Cabins
Bluefield, WV
Following a day spent exploring the extensive Hatfield-McCoy trails, spend the night in a serene wooded setting at Buffalo Trail Cabins. Grab something to eat at their on-site restaurant and sit back and soak up some sweet summer memories. Then, rest up for another day of adventure, for there's a lot more of the Indian Ridge and Pocahontas trail systems you can discover.
Appalachian Outpost
Lyburn, WV
Escape to the great outdoors where a backdrop of lush mountains and the soothing sounds of the Guyandotte River await you. At the Appalachian Outpost, you'll find all you need for a restful night after a day full of play. When you stay at Appalachian Outpost, you'll have full access to both the ATV-friendly town of Man and the trails—with the Rockhouse Trail System only 1/4-mile away.
Unbeatable B&B's and Hotels
Even if you're far from home, you can feel at ease when you stay at one of these B&B's. Discover mountain landscapes by day and enjoy a sense of comfort by night.
Historic Matewan House Bed & Breakfast
Matewan, WV
Located minutes from the Buffalo Mountain trailhead, the Historic Matewan House Bed & Breakfast provides quick access to high-quality accommodations. When you arrive after a day full of adventure, an abundance of amenities awaits you. With a big-screen television, homemade goodies and so much more, you'll want for nothing at this B&B. Fuel up for another day of exploration with an all-you-can-eat, country breakfast each morning. When you go to get your gear, you'll find that it's already sprayed off for you.
Also enveloped in rich Appalachian history, you'll leave both well-rested, well-fed and well-learned about the famous town of Matewan.
Eva's House B&B
Gary, WV
If you have a lot of people in your trail-riding posse, Eva's House B&B is the perfect place for you and your crew. If your group number includes a couple of furry friends, no need to worry. Eva's House is pet-friendly. So, sit around the firepit, chill out on the porch or explore all the antiques that the 102-year-old house has collected. After resting up through the night, grab homemade breakfast in the morning. With direct access to the Warrior Trail System and only 20 minutes from Pinnacle Creek, a world of adventure and accommodation meet at Eva's House.
Convenient Campgrounds
After a day full of fun, cozy up by the campfire with family and friends. Roast s'mores, tell stories and create memories to last a lifetime.
Ashland Resort
Ashland, WV
With lodges, cottages, cabins, RV and tent sites, Ashland Resort has options for every trail rider on its 1,600 acres. This resort is conveniently located within a short distance of three of Hatfield-McCoy's trail systems— Indian Ridge, Pinnacle Creek and Pocahontas. As you come in from your ATV adventure, fuel up on gas and stock up on some goodies and groceries at the resort's store. As you venture through lush forests and navigate rocky roads, you can be confident that comfy accommodations await you.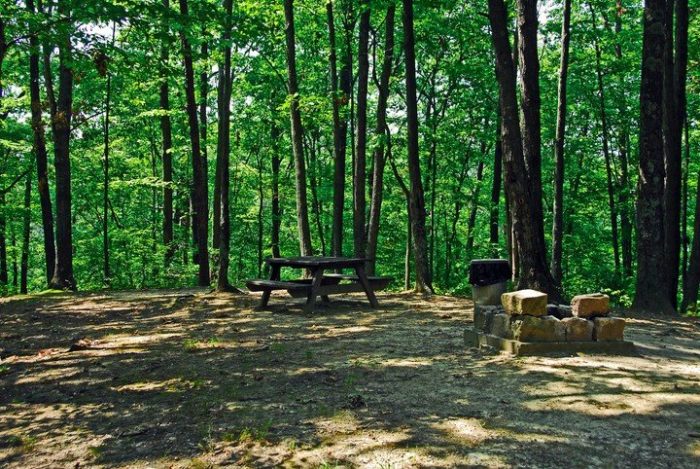 Cabwaylingo State Forest
Dunlow, WV
If you're looking for a place to set up camp while you're out on the trails, look no further than Cabwaylingo's Spruce Creek Campground. Here, you'll find all you need for a comfortable stay. If you've got a big group on your trail-riding retreat, no need to worry about room. The state forest's 100-person, fully-equipped group camp will come in handy. Once you're settled, sit down by the fire pit with loved ones and reminisce on the day's adventures. Then, rest up, so you can explore the rest of the Cabwaylingo Trail System.
Where will you and your crew spend time off the trails this summer? Keep exploring on and off the trail with a free copy of the 2021 Vacation Guide.
This post was last updated on February 23, 2022